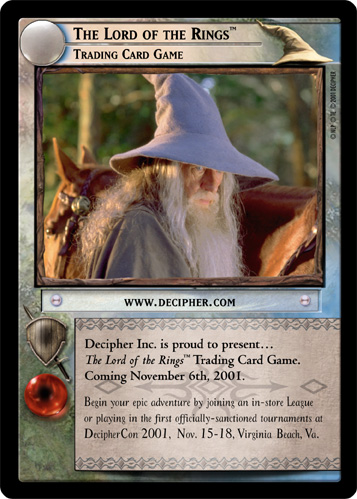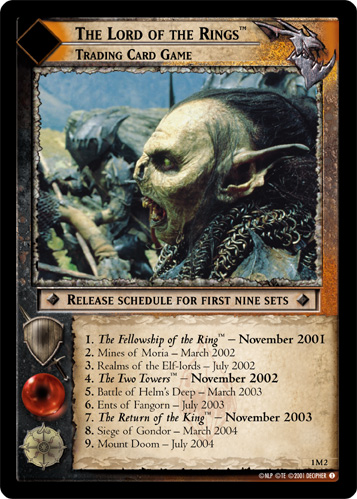 Hilo dedicado al juego de cartas coleccionables del Señor de los Anillos de Decipher.
Lista de cartas:
- LOTR TCG Wikia
- LOTR TCG en CambiaCartas.com
Reglas OFICIALES:
- Reglas avanzadas de Las Dos Torres. Este es último libro de reglas deluxe que se tradujo al castellano, y son las reglas con las que jugamos Aitor y yo.
- Starter Rulebook from The Hunters. Use this rulebook to learn how to play if you are new to the game. After you get the hang of LotR TCG, you can move on to reading through the Comprehensive Rules.
- Comprehensive Rules 4.0. Useful as a reference guide, this rulebook goes into fine detail about each phase, contains a glossary and includes errata for cards through King Block. Check here first to settle a rules question or dispute.
- Current Rulings Document (08/13/07). This is a supplement to the Comprehensive Rules and includes errata from Shadows on as well as formats information. Be familiar with the T&D fixes! 
- Official Tournament Guidelines. Though slightly outdated, this contains the official documentation for the mulligan rule, as well as... wait for it... tournament guidelines.
Formatos:
Fellowship Block:
Towers Block:
King Block:
War of the Ring Block:
Hunters Block:
Standard:
Expanded:
Open:
Casual/Other Formats:
OTRA LISTA ENTERA DE FORMATOS:
Otros:
- Blog de un fan que diseña cartas delas pelis del Hobbit "estilo LOTR TCG de Decipher"